Rediff – IMAGE: David Miller is bowled by Yuzvendra Chahal during the 5th ODI in Port Elizabeth on Tuesday.

Summary
Photograph: Richard Huggard/Gallo Images/Getty ImagesSouth Africa's greatest all-rounder Jacques Kallis has figured out why the Proteas are struggling against Indian wrist-spinners Yuzvendra Chahal and Kuldeep Yadav.
IMAGE: Kallis reckonds Hardik Pandya still has a lot to learn.
Photograph: ICC/TwitterOne of the finest all-rounders of his time, Kallis feels that playing three formats takes its toll on a modern cricketer's body and hence there aren't too many noteworthy all-rounders in the international circuit.
But whatever little he has seen of Hardik Pandya, Kallis feels that the Indian does have the potential to do consistently well in the international arena.
Kallis will be back in India in a month's time as the chief coach of IPL franchise the Kolkata Knight Riders and is happy with the balance of that side.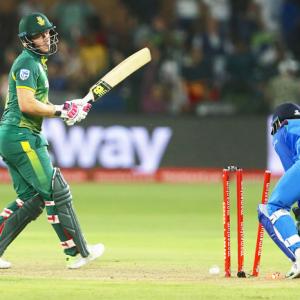 Read more…